ECOLODGE I
---
LUXURY MUD HUTS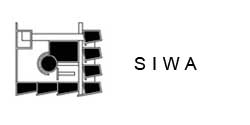 ---
A retreat in the Egyptian desert.
A retreat which also is a guest house.
A retreat fully dedicated to contemplation and rest.
The piece of land, 35 x 35 m, is located in the peninsula of Siwa oasis at the bottom of Adrere Amellal ("white mountain" in tasiwit, the Berber dialect of this area). We have chosen to dilate the project in order to cover the plot completely. This allows to provide as many patios as guest rooms, closed courtyard and garden; so many quiet places facing the desert.
Facing the four viewpoints  that this site offers and the four cardinal points, four distinct façades reply to. The main living room in the north is protected from direct sun. It opens onto a long pergola looking over the salt lake. In the east, the guest rooms look over the Adrere Amellal. Varied views whether you are standing, sitting or lying down. In the south, the façade evenly bored with minimal openings to the palm grove, rampart against sandy winds, borders staff quarters. Finally in the west, towards the gates to desert, the garden and the swimming pool are isolated from the sole neighbour by a high wall in earth fissured on an ad hoc basis. Here, quite isolated, the house was built with materials made available by desert, oasis and salt lake : mud, sun fired bricks, palm wood, reeds, red stone and salt stone. Walls are built by local craftsmen with kershef, a traditional building material made out of mud, sand, and sun-dried salt harvested from the Siwa's salt lakes. In addition to blending in with the surrounding natural environment, kershef acts as a natural insulator, keeping indoor air temperatures mild in both hot and cold seasons. No electricity in the house. Niches have been installed within the thick walls in kershef to place candles. A spring spurting out in the bottom of the mountain, not very far in the south, irrigates the palm grove and continuously feeds the kitchen and bathrooms with fresh and healthy water, as well as a small pool  and the basin at the centre of the peristyle intended for cooling the courtyard and adjacent rooms. Waste water treatment is ensured with reed grove.
The tower, master room of the property has a natural air conditioning system using draughts : warm air in the rooms is vented within its two walls for fresh air coming from evaporation of water of the basin in the centre of the courtyard. It welcomes the owner's suite and dominates the whole house. The terrace roof offers  panoramic views of the exceptional landscape.

---
Project : Ecolodge / Location : Siwa, Egypt / Client : Private / Project Area : 390 sqm / Architects : Laetitia Delubac and Christian Félix architects, Paris, France / Photographs :  Laetitia Delubac